Presents
Yellowfetch What U Want C.C.D.
Sire: Jonesh Charlemagne (AI) C.D.
Dam: Yellowfetch Whatz Uup
Whelped: 11th of July 2007
Hips 3:4=7 Elbows 0:0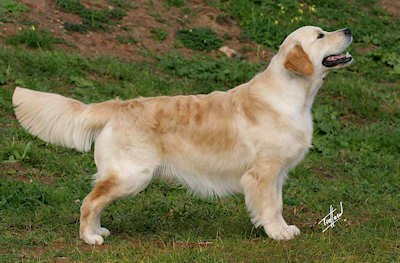 Dandy
Achievements:
Dandy is my youngest star. He has a great temperament.
He is enjoying show/obedience ring.
******* Royal Sydney Easter Show 2008 ******
4th Place In Puppy Class Judge was Mr. H. O'Donoghue (Ireland)
******* 7th Golden Retriever National in June 2008 *******
Best Opposite Puppy In Show under Specilaist Judge Mrs.Marlene Sillence (U.K.)"Canina"
******* The Golden Retriever Club of NSW Championship Show in September 2008 *******
Best Opposite Junior In Show under Specilaist Judge Mr R Edwards (U.K.) "Lovehayne"
""He also won his Obedience class""
1st Place In C.C.D. Class under Ms Elaine Temby (ACT)
******* Over three Trials Dandy got C.C.D. Title *******
8th,9th,10th of August 2008 at Mudgee District Kennel Obedience Club
Judge was Mr J Sissons, Mr K Speed, Mrs B O'Conner
Pedigree of "Yellowfetch What U Want C.C.D."

Parents
GrandParents
GreatGrandParents
SIRE

Jonesh Charlemagne (AI) C.D.     

Aust.Ch.Eng.Sh.Ch.Tasvane Charles Henry (IMP.U.K.)

 Eng.Sh.Ch.Stirchley Saxon (U.K.)
Abbotsford Rosa Of Tasvane (IMP.U.K.)
Aust.Ch.Giltedge Jane Eyre
Aust.Ch.Stanroph School Boy (IMP.U.K.)
Aust.Ch.Fantango In Poppyfields

DAM

Yellowfetch Whatz Uup

Avonbreeze Heedless(AI)
Eng.Ch.Paudell Easter Plantagenet At Kerrien (U.K.)
Aust.Ch.Tasvane Spring Morning
Aust.Ch.Yellowfetch Liberty Lass
Aust.Ch.Goldsirius Iz Fanztastic
Pampas Puppy Power C.D.X.